Waterproof Flooring in Fort Wayne, IN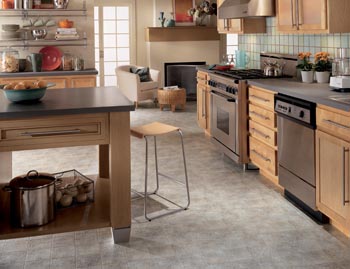 You have spent a long time thinking about exactly what type of floors you want to buy and dreaming about what they'll look like once they're installed in your home. Don't let life rain on your parade. When you shop with us, you'll find a variety of waterproof flooring in Fort Wayne, IN.
Whether it's vinyl, laminate, or even carpet, we have flooring materials that stand up to even the busiest households. It's no time to settle for a material you don't want just because you have a very active household--instead, look to us for outstanding waterproof carpet, vinyl, and much more.
Waterproof Vinyl Flooring Perfect for Any Style
Whether you're a homeowner who wants to convert a basement or spruce up a kitchen, or you're a business owner looking to get more attractive floors in your most high-traffic area, you can count on us. We believe that buying a flooring material for its function shouldn't mean it has no style.
With a wide selection of waterproof luxury vinyl flooring, we know you'll find your perfect match. Our professionals are here to help you in your selection process. They'll show you products from well-trusted name brands like Floor Tech, US Floors, and Downs, letting you know the benefits of each. With the help of our knowledgeable team, you are sure to love your new floors.
While many people love the look of natural stone or hardwood, these materials are not great for moisture-prone areas. Natural and porous materials soak up water, putting them more at risk for stains, mold, and mildew. But with our waterproof vinyl flooring, you don't have to worry about any of this.
Our products are not only waterproof on the surface--they have waterproofing down to the core. This means they won't rot, degrade, or leak into the subfloor. Any liquid spilled on the surface stays on the surface until you're ready to clean it up.
Discover the Joy of Waterproof Carpet
Just because your household is prone to spills doesn't mean you have to give up the soft fluffy texture of carpeting. With our waterproof floors, you can have the best of both worlds. Our products feel just like any other carpet. However, they are stain-resistant and don't let moisture leak to the subfloor. When there's a spill, all you will have to do is grab a towel or a shop vac. You don't have to worry about your carpets any longer. Instead, they'll be a source of your peace of mind. Contact Jack Laurie Group of Ft. Wayne, IN to get started.



Contact us today to learn more about our waterproof flooring. We proudly serve customers throughout Fort Wayne, Indiana, including New Haven, Brookside Estates, Brierwood Hills, and surrounding areas.