Vinyl Flooring in Fort Wayne, IN, for Any Need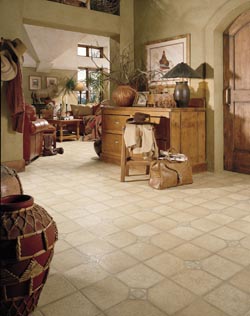 Upgrading your floors is an essential part of any major renovation, and the material you choose needs to stand the test of time. When you won't settle for less than the best products in the industry, turn to Jack Laurie Home Floor Designs and our vinyl flooring in Fort Wayne, IN. Our extensive selection includes an effective solution to meet any flooring needs. These materials maintain their long-term ability to embody:
Style
Value
Comfort
Resilience
Personalization
Few surfaces can match vinyl's ability to stay strong in the face of heavy foot traffic, and it even offers some noise reduction over its more stiff alternatives. What it's known for, however, is delivering classic beauty with easy upkeep through the use of high-resolution textures that look-- and often feel-- like authentic natural materials.


Don't Worry About Wrecking Wood
Coveted the world around for its unique appeal and upscale connotations, hardwood is one of the industry's most beloved surfaces-- and one of the hardest to maintain. The need for specialized maintenance, treatments, and environmental conditions make it difficult for many homeowners to invest in it confidently. There is, however, an easier alternative.
Our vinyl plank flooring effortlessly captures the refined look of genuine wood by mimicking both its surface texture and installation method. With this product, you can enjoy the appearance you want with a much less rigorous upkeep process.


A Solid Stone Alternative
Maybe you're more of a tile person, but don't want to worry about chips and cracks marring your new surfaces. No surprise, vinyl can help there, as well. As with the plank variant, vinyl tile flooring can recreate the style of a time-tested material with enhanced value to the homeowner.
In this case, we supply a diverse selection of realistic surface textures that replicate flooring favorites like slate, granite, and ceramics. With our products, you're sure to find something to serve as the reliable base your reimagined room.


Covering All Your Flooring Bases
No matter what you choose to craft your design vision, you can find the help you need to make it happen at our showroom. Backed by extensive experience, local knowledge, and a nationwide network of trusted professionals, we are the unrivaled insight you need to enjoy anything from planks to vinyl sheet flooring.
When you shop with us, you'll have access to expert help for every stage of the process. From comparing products to figuring out the best option for installation, we always have you and your floors covered.



Contact us today if you're ready to make vinyl your go-to material. We proudly serve Fort Wayne, New Haven, Aboite, Yoder, and Leo-Cedarville, IN.