Tile Flooring in Fort Wayne, IN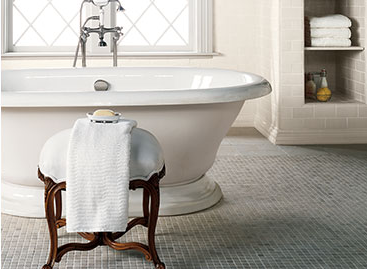 Upgrade and enhance your home or office with stone, ceramic, or porcelain tile flooring in Fort Wayne, IN. At Jack Laurie Flooring America, we carry tile of all shapes, sizes, and materials to meet the needs of every customer.
As a durable flooring solution, tile has been around for hundreds of years and remains a popular choice for many property owners today. This longevity is because tile is easy to maintain and looks great in any room. Additionally, because tile is water-resistant, it is an excellent choice for moisture-rich environments such as kitchens or bathrooms.
A Natural Choice for Flooring
When you are looking for a flooring option that is both resilient and natural then the tile is the right choice. From the rugged look of stone tile to the polished refinement of ceramic and porcelain, there is an option that is perfect for your property.
If you are worried about the look of your floor fading over time, you can rest comfortably with a tile surface. It stands up to the comings and goings of your busy household thanks to being both scratch and stain-resistant. This resilience makes it perfect in any room and even allows it to be used outside on patios.
Limitless Design Potential
Because tile is available in so many materials, shapes, and colors, the design potential for your rooms is limitless. From the traditional look of stone, to the intricately shaped patterns and colors of ceramic tile, your design is only limited by your imagination.
If you are unsure of what design you want or what materials would work best in your space, we are here to help. Our designers are tile experts and work with you to find the right solutions for your home or business. Come into our flooring showroom to discuss your design plans with us while you explore our vast selection of tile surfaces.
Feel Confident with Our Installation
When you invest in new flooring for your property, the best way to protect it for years to come is to let our custom tile installers handle the job. The task of correctly installing tile is intricate work, requiring proper preparation, straight grout lines, evenly cut tiles, and exact spacing. With our team, you are assured that your new tile floors look as good as it did in the store.
At Jack Laurie Flooring America, we are so confident you will be happy with your new floor that we offer an Ultimate Confidence Guarantee. This warranty means that if you are unhappy with your new floor within 30 days of installation, we will replace it with another one of the same value. This guarantee also protects the purchase price of your tile flooring, covering any refund if you find the same style for a lower price at one of our competitors.
Contact us when you are looking for new flooring and want to explore our tile options. We proudly serve Fort Wayne, IN, and the surrounding areas.