Tile Flooring in Fort Wayne, IN
Update the look of any room in your home with gorgeous tile flooring from Jack Laurie Home Floor Designs. We carry a wide selection of tile products made from porcelain, ceramic, and stone tile to meet the needs of all our Indiana customers. Perfectly enhance any interior with our various tile shapes, sizes, and materials. After choosing the perfect tile that suits your needs, budget, and personal taste, our tile flooring installation team is ready and able to properly and safely install your new tile flooring.
We understand that upgrading your floors is a significant investment for your home, so we promise to handle the entire process with attentive care. Our knowledgable experts are here to answer all your tile flooring questions. Visit our showroom in Fort Wayne, IN, to start your tile flooring renovation today!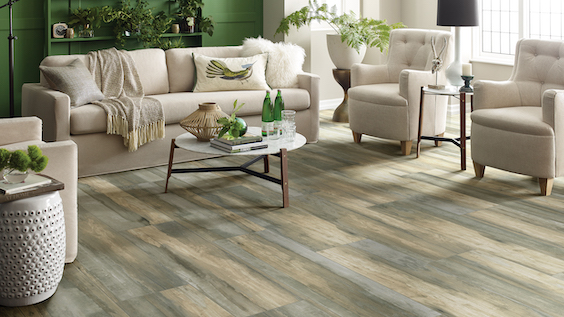 Your Guide to the Types of Tile Flooring
When it comes to choosing the best type of tile flooring for your project, let our local experts be your guides. We are always happy to help answer any questions and help you decide on the tile that will suit your design and functional needs. Find the following types of tile at our local, Fort Wayne, Indiana, flooring store.
Ceramic Tile
Crafted from a heating and cooling process using kiln-fired clay, ceramic is one of the most popular tile products for both flooring and backsplash designs. While most ceramics have a glossy, glazed finish, there is also non-glaze tile flooring that contains a pattern that helps prevent slippage underfoot. While most ceramic flooring tiles can be used as a backsplash, tile that has intentionally been created for walls cannot typically be installed on the floor.
Porcelain Tile
Porcelain is created using a similar method as ceramic, but it's kiln-fired clay requires a longer heating period. As a result, the finish is denser and more durable than its ceramic equivalent. Porcelain tiles can typically be used both indoors and outdoors, which makes the product much more adaptable. Additionally, finer clays are typically used in the composition of this beautiful tile product.
Stone Tile
Stone tile is one of the best options for outdoor flooring as it can withstand intensive natural elements. Our stone tile selection is perfect if you are looking for a more natural or rustic design theme. Marble, travertine, slate, and granite are just a few of the raw materials that are used to make our stone tile.
Wood-Look Tile
Wood-look tile is an increasingly popular, contemporary style that is created with either ceramic or porcelain materials. Homeowners can now enjoy any species of wood in the design of wood-look tile with the stability and moisture-resistance of a tile floor. Never fear warping, staining, or damage that can affect hardwood when you invest in these stunning tile selections. From birch to oak and mahogany shades, wood-look tile is a great hardwood alternative for bathrooms, kitchens, basements, or any room in your home.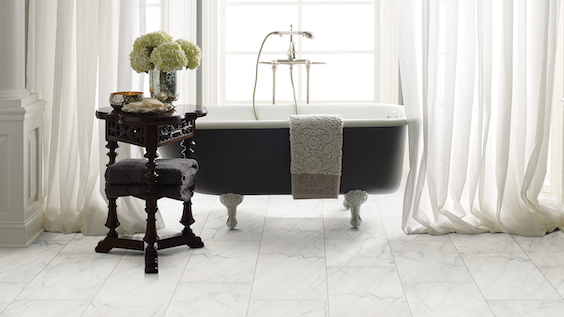 The Many Advantages of Tile Flooring
Tile is a popular flooring choice among our Fort Wayne customers due to its variety of style and performance advantages. At Jack Laurie Home Floor Designs, we carry trusted tile brands including Emser Tile, Daltile, Louisville Tile, and more. Some of the advantages of tile floors include the following:
For homeowners who don't have much time to clean, tile flooring is the ideal option for you, requiring regular sweeping and mopping.
Choose from a variety of styles, materials, cuts, colors, and finished for a unique interior design.
This eco-friendly flooring material is resistant to water and fire.
Enjoy stain, dent, and scratch-free durability, perfect for homes with children and pets.
Tile is an affordable flooring option, with selections to meet any budget and style.
Tile is completely waterproof and long-lasting.
Professional Tile Flooring Installation Services
When you invest in new flooring for your home, the best way to protect it for years to come is to let our team of installers handle the job for you. The task of correctly installing tile can be very intricate work, requiring proper preparations, straight grout lines, evenly cut tiles, and exact spacing. With our team of expert installers, you are assured that your new tile floors look good and last for many, many years.
At Jack Laurie Home Floor Designs, we are so confident that you will be happy with your new tile flooring that we offer our Ultimate Confidence Guarantee. This warranty means that if you are unhappy with your new floors within 30 days of the installation, we will replace it with another one of the same value.
Contact us to learn more about our tile flooring selection and installation services. We proudly serve Fort Wayne, IN, and the surrounding Allen County communities.