Tile Flooring in Fort Wayne, IN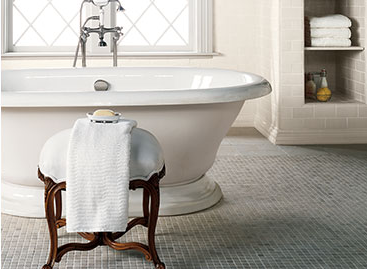 Upgrade and enhance your home or office with porcelain, ceramic, or stone tile flooring. In Fort Wayne, IN, our flooring store offers a wide selection of products to suit your style and budget. For an affordable and easy way to change your floors, stop by our store today for a consultation. Instead of living or working in a space that doesn't reflect your personality, do things differently. Add stylish and durable tile. We carry tile of all shapes, sizes, and materials to meet every customer's needs.
Tile has been around for hundreds of years and remains a popular flooring choice for many property owners. This flooring style offers both elegance and easy maintenance.
Visit our showroom to peruse our many options for tile. Home and business owners often install kitchen tile, bathroom tile, and even tile for outdoor patios. Because it is water resistant, it is excellent in moisture-rich environments. There is much more to tile than functionality. The advantages of floor tiles include the following:
Easy to Maintain & Clean
Available in a Range of Colors and Sizes
Withstands Significant Wear & Tear
Made from Natural Materials
Hypoallergenic & Hygienic
Moisture Resistant
Scratch Resistant
Stain Resistant
Color Permanence
A Solid, Stunning Choice for Flooring
Are you tired of your worn-out floors? Give your feet something new and stylish to stand on by coming to us for tile flooring. We offer a wide variety of tile flooring products for the kitchen, bathroom, and any other room. Dramatically transform the look of your floors and the ambiance in your rooms. From ceramic and porcelain to natural stone tile, our products impressively improve the value and appeal of your home or business.
Carpet may be soft under your feet, but floor tiles last a lifetime. Easy to maintain and perfect for any room in the house, tile is an excellent flooring product for property owners looking for enduring and stylish floors. In addition, your options are nearly endless when you visit our store. Because we are a part of a nationwide flooring chain of stores, we have access to any style you want at a price you can afford.
Give your home wall-to-wall beauty by laying tile floors. From porcelain floor tiles that are ornately designed to the rustic and distinguished look of stone tiles, our flooring options come in all types: smooth, textured, glazed, unglazed, polished, and unpolished. Choose a traditional look or one that is more contemporary. You don't have to limit yourself. If you need help, simply ask one of our knowledgeable and friendly flooring specialists for assistance.
Our Guarantee Outshines Other Tile Stores
After you have made your flooring choice and our experienced installers lay your tile, the customer service doesn't stop there. In fact, we are so confident you'll be happy with your new floor that we provide an Ultimate Confidence Guarantee. That means if you are unhappy with your new floor within 30 days of installation, our team will replace it with another one of equal value.
The Ultimate Confidence Guarantee also protects the purchase price of your tile and covers any refund if you find the same style for a lower price with one of our competitors. If you schedule tile installation with one of our professionals, the guarantee covers any installation-related problems for the lifetime of the tile. This warranty is extended beyond the manufacturer's warranty when you make a purchase at our flooring store.
When you are investing in new flooring for your home or office, the best way to protect your investment for years to come is to get tile installation from our professionals. The task of properly installing tile is intricate work—requiring proper preparation, straight grout lines, evenly cut tiles, and exact spacing. Follow through on your purchase with our tile installation services, and enjoy the best guarantees in the industry.
A regular flooring store may have the tile floors you want, but nothing else. Their customer service may be lacking; their prices may be too high, and they may not provide tile floor installation. We are not simply a flooring store though. Not only do we stock all variety of tile floor products, but we specialize in floor tile installation. From selection to installation, we help you every step of the way.
Contact us today to schedule an appointment for an in-home consultation concerning a tile purchase. We are proud to serve residential and commercial clients from Fort Wayne, New Haven, Aboite, Yoder, and Leo-Cedarville, Indiana.