Simplify Home Maintenance with Luxury Vinyl Tile in Fort Wayne, IN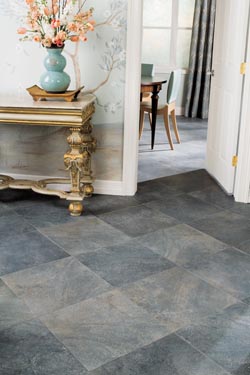 Bathroom flooring generally looks the same in every home. Most people choose traditional tile, like stone, ceramic, and porcelain, while others may opt for linoleum. But when you visit our flooring store for an upgrade, you'll discover a wealth of LVT flooring options that offer more in the way of both beauty and durability that do other flooring materials.
As your first source for luxury vinyl tile in Fort Wayne, IN, we've taken every effort to ensure we offer as large a selection of products as possible. This makes it easier for our customers to find exactly what they're looking for. Don't settle for high-maintenance floors that don't even match your vision for your home - instead, upgrade to luxury vinyl tile, or LVT, and fall in love with your bathroom or kitchen all over again.
Once you've added an LVT floor to your home, you don't have to stop there. Luxury vinyl comes in many different varieties, and you can have it installed almost anywhere. Luxury vinyl plank, for example, mimics the appearance of classic hardwood and looks great in your living room and any other room in your home. Be sure to check out our LVP when you stop by.


Low-Maintenance Flooring Option
No one looks forward to clean tile - especially grouted tile. In bathroom and kitchens in particular, cleaning this type of flooring can be frustrating beyond belief. Not only that, but once traditional stone, ceramic, or porcelain tile is clean, you're able to see the scuffs and scratches your floors have accumulated since you last cleaned. As far as inspiration goes, classic tile isn't a very good source!
On the other hand, a luxury vinyl tile floor stands up to the test of time, resisting most kinds of damage with ease. Whether you're concerned about clumsy kids or high-energy pets with claws, LVT won't buckle, even when confronted with complete chaos. Best of all, there's no troublesome grout to worry about scrubbing. The lifelike surface may feel like traditional tile, but make no mistake - it's in a class of its own.


Opt for Professional Installation
Once you've decided to upgrade to low-maintenance floors, make another great choice by investing in luxury vinyl tile floor installation from our professionals. They have the tools and experience needed to install floors of all kinds, which means you'll receive a finished product that performs as well as it looks. Don't leave this very important process to an amateur - instead, let our flooring experts handle the hard work!



Contact us or stop by to find out more about the perks that come with new luxury vinyl tile. We proudly serve residents of Fort Wayne, Indiana, including those in New Haven, Aboite, Yoder, Leo-Cedarville, and surrounding areas.