Luxury Vinyl Planks in Fort Wayne, IN, Offer Timeless Beauty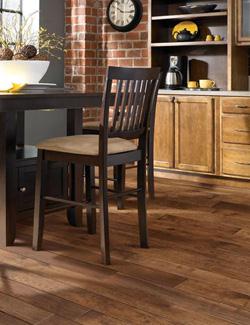 Hardwood flooring is one of those timeless home furnishings that everyone wants for their homes. But there are times when its price and maintenance needs can dissuade homeowners from choosing it over other flooring products. What if you could bring home a flooring option that offered the same aesthetic appeal as true hardwood, but was easier to maintain and overall more affordable?
Find the perfect compromise in luxury vinyl planks. In Fort Wayne, IN, our flooring showroom carries a diverse selection of LVP, making it easy to find just what you're looking for in a new set of floors. As flooring experts, we know that hardwood is a highly sought-after material - that's why we're proud to offer an alternative that's easier on both your wallet and your cleaning routine.


All the Beauty of Natural Wood with None of the Hassle
Along with its naturally beautiful appearance, classic hardwood has remained popular for hundreds of years thanks to its longevity. With regular refinishing and polishing, a hardwood floor performs well for several decades. However, not everyone has the time, energy, or means to provide this level of care as it's needed. And now, with the rise of luxury vinyl plank, you don't have to!
LVP doesn't require regular refinishing, sealing, or any other kinds of upkeep associated with traditional hardwood. That's because it's made of several reinforced layers of manufactured materials. These layers enable it to endure all kinds of wear and tear while looking better than ever. As a bonus, luxury vinyl plank floors are easy to clean, only requiring sweeping and mopping every so often.


Professional Installation Matters
It's well worth your time to enlist the help of professional flooring installers when it comes to laying down your new LVP. That's because floors installed by amateurs could show performance problems later down the road. Don't take that chance with your latest home investment - instead, choose luxury vinyl plank floor installation from our showroom's certified crew. They'll do right by your new floors!


Beyond LVP
Now you can enjoy the beauty and durability of vinyl in every room in your home. Along with LVP floor options, our showroom carries luxury vinyl tile, or LVT products. These are beautiful choices for your kitchen, bathroom, or any other room in which you'd normally add tile. Ask about our LVT products during your next visit.



Contact us today or go online to explore the luxury vinyl flooring that's available now. We proudly serve residents of Fort Wayne, Indiana, including those in New Haven, Aboite, Yoder, Leo-Cedarville, and surrounding areas.