Luxury Vinyl Flooring in Fort Wayne, IN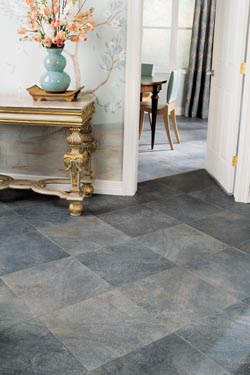 When you're ready to update your flooring, look no further than our showroom. We offer a wide range of materials that are a perfect fit for any décor and lifestyle. When you visit our store, you'll also find friendly and knowledgeable staff eager to help with any part of the process. From the initial inspiration to the final installation, our professionals share their expertise to make the process much easier.
When it comes to easy maintenance and design versatility, many customers turn to our luxury vinyl flooring in Fort Wayne, IN. While this material has been available for decades, it's not until recently that it has been so resilient and stylish. Modern manufacturing processes have made our luxury vinyl tile and plank floors incredibly strong and can even create textures that make the floor feel more like real tile or hardwood. Come explore our inventory to see and feel for yourself.


Experience the Benefits of Our Luxury Vinyl Tile
Make your busy life a little easier by taking advantage of our luxury vinyl flooring installation services. Our vinyl products are extremely durable and can stand up to high foot traffic in areas like the foyer, living room, and kitchen. But what homeowners really love about it is its easy maintenance.
By installing luxury vinyl tile, you put a non-porous surface in every room. If a cup of coffee falls off the dining room table or your kids get a little messy when they brush their teeth, you don't have to worry about those liquids seeping below the surface of your floors. Instead, just use a mild soap to clean up the mess. This resistance to moisture and liquids means that you don't have to worry about set-in stains, mold, or mildew. And with well-known brand names like Floor Tech, US Floors, and Downs, you know you can count on the quality of your new floors.


Versatile Luxury Vinyl Plank and Tile Floors
Turn to us for a stunning new living space. With our luxury vinyl plank and tile flooring, you can get creative with the aesthetics of your home. With all the benefits of vinyl, you can have the look of hardwood throughout your home, even in the kitchen and bathrooms.
Our luxury vinyl flooring installation professionals use their skills to maximize the beauty and durability of your new floors. By using reliable installation methods and paying attention to every detail, your vinyl will be smooth, even, and just what you've been looking for.



Contact us today to learn more about our luxury vinyl tile. We proudly serve customers throughout Fort Wayne, Indiana, including New Haven, Brookside Estates, Brierwood Hills, and surrounding areas.