Discover Design & Durability with Luxury Vinyl Flooring
Luxury Vinyl Flooring in Fort Wayne, IN
Luxury vinyl flooring from Jack Laurie Floor Home Design has quickly become one of the most popular flooring options with local homeowners. Our selection of luxury vinyl is perfect for those who love the look and feel of genuine hardwood or tile floors but are looking for a more budget-friendly option. Our team of in-store associates is here to help you find the best luxury vinyl for your performance needs and design preferences. We'll be here for you every step of the way, from selection to installation!

Stop by our showroom in Fort Wayne, IN, to browse our large selection of luxury vinyl flooring. Once you've decided to invest in new luxury vinyl floors, it's a good idea to schedule professional luxury vinyl flooring installation services with our team. We'll ensure your new floors get installed properly on time and at your convenience.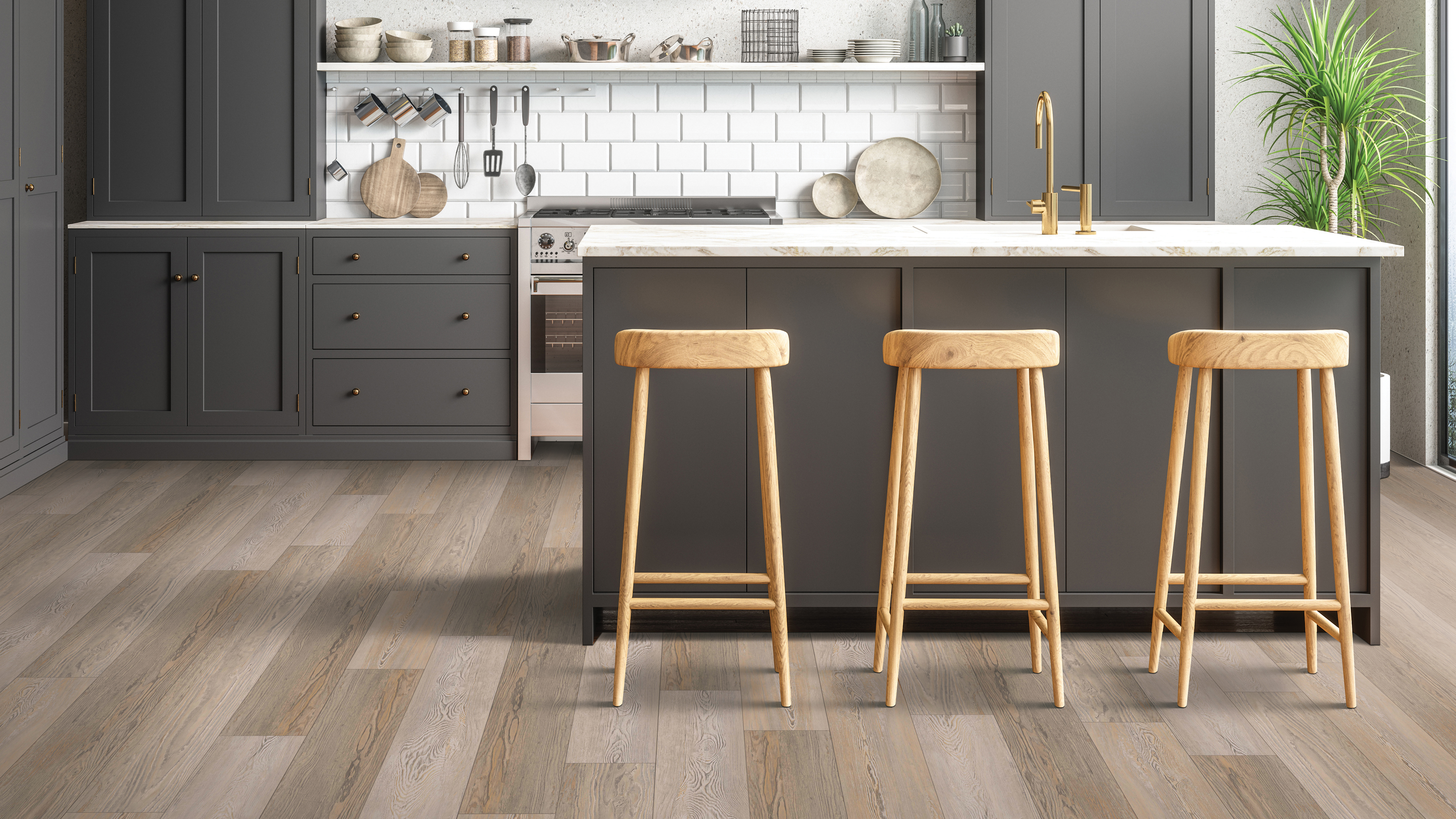 The Benefits of Luxury Vinyl Flooring
Not only are our luxury vinyl floors water-resistant, but they're easy to maintain as well. This makes them the perfect flooring choice for homes with children or pets. Our luxury vinyl flooring is very durable and has a thick wear layer that can withstand even the toughest stains and scratches. Luxury vinyl is very adaptable and uses high-resolution textures to mimic a near-limitless range of designs. Obtaining the beauty of hardwood and tile within your home is made hassle-free with our luxury vinyl flooring selection.
We understand that keeping your floors clean shouldn't be a hassle. This is why all of our luxury vinyl flooring brands such as Mannington, Downs H2O, and more are designed to withstand your active lifestyle.
Where Can Vinyl Be Installed?
One of the leading advantages of vinyl flooring is that it can be installed in any room of the house, including below level in basements and laundry rooms. Our luxury vinyl flooring selection is 100% waterproof, so you can rest easy knowing that these floors can be installed anywhere in your home. Vinyl can also be installed over almost any subfloor, as long as the old surface is flat. Our waterproof vinyl planks prevent any spills on the surface from causing damage to your subfloors.
Types of Vinyl Flooring
Luxury vinyl flooring comes in many styles and patterns, offering customers a plethora of design choices to match any room. Whether you want a tile look for your kitchen and bathroom, or beautiful wood look for your living room, luxury vinyl offers durable alternatives. Discover the types of tile we carry:
Luxury Vinyl Planking
Get the look of hardwood for less by installing luxury vinyl planking (LVP). LVP is a great alternative for homeowners who either cannot afford hardwood's upfront price or who want wood-style flooring in rooms that are prone to moisture. Wood is highly absorbent and when hardwood planks are exposed to moisture, the wood absorbs it and swells which eventually causes gapping and diminishes the surface's structural integrity. An LVP floor does not have this problem as it is not absorbent. The top layer of LVP is formed by utilizing advanced photographic technology, resulting in a stunning decorative layer that draws attention with authentic-looking grain patterns.
Luxury Vinyl Tiles
Luxury vinyl tile (LVT) adds charm and elegance to any space. It replicates the magnificent look of ceramic and porcelain, making it ideal in bathrooms, kitchens, and other high-moisture areas. Our LVT is designed with an uncanny tile appearance, with depth and textures to convince even the most observant visitors. Floors can deteriorate quickly in an active household, but our LVT is made to be resilient. From pet accidents to heavy foot traffic, LVT is designed to be durable and look great far into the future.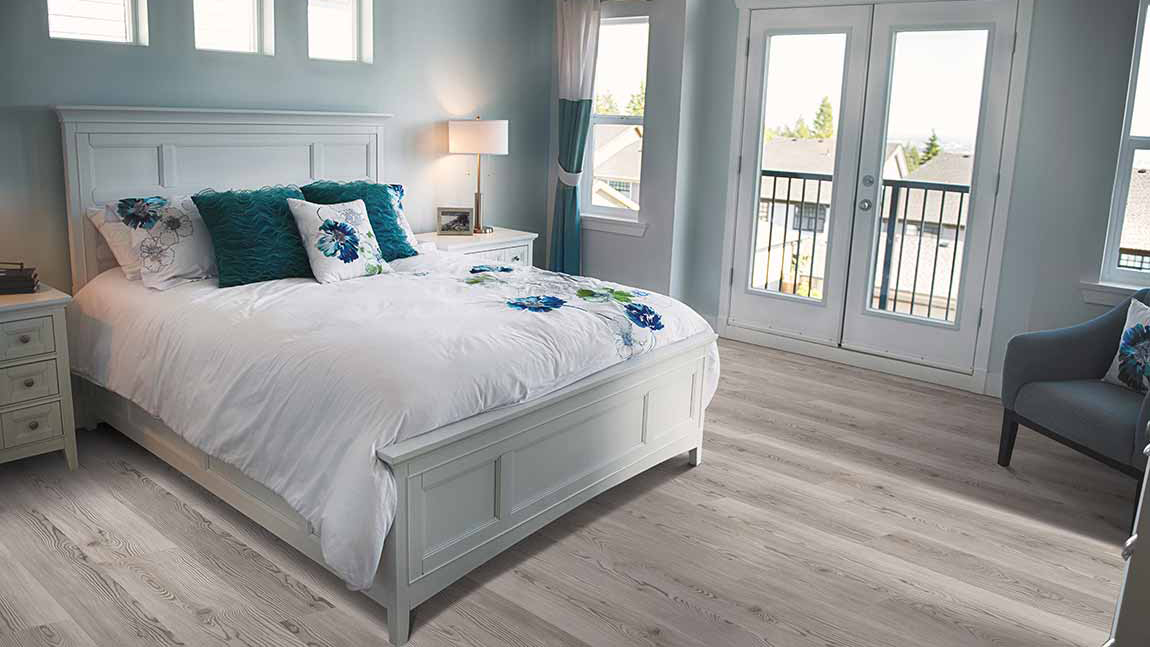 How to Care for Vinyl Flooring
With luxury vinyl, cleaning your floors has never been easier. Regularly vacuuming and sweeping your luxury vinyl floors will help them retain their brand new appearance for years down the line. Just be sure to consult your floor's warranty before using any harsh cleaning agents, as some chemicals can affect your vinyl's surface.
Professional Luxury Vinyl Installation Services
Once you've selected your new luxury vinyl flooring, schedule your luxury vinyl flooring installation with our team of professional and dedicated flooring installers. Our experienced team will remove your old flooring, properly prepare the subfloor, and install your new luxury vinyl flooring so it looks and functions great for many long years to come. Installing luxury vinyl flooring yourself could result in unevenly placed tiles or planks, peeling vinyl layers, or even cracked vinyl which could lead to moisture damage.
Our team displays a proven track record of success and our installation services are backed by some of the best warranties in the industry, including our Ultimate Confidence Guarantee. Should you find yourself unhappy with our work or your new floor, give us a call within 30 days of your installation. We will gladly replace your floors with a similar product at no additional cost to you.


Contact us today to learn more about our luxury vinyl flooring selection. We proudly serve customers in Fort Wayne, New Haven, Aboite, Yoder, Leo-Cedarville, IN, and the surrounding communities.