Durable & Innovative Laminate
Laminate Flooring in Fort Wayne, IN
Choose a no-fuss flooring that boosts the attractiveness of your home with beautiful laminate flooring from Jack Laurie Home Floor Designs. At our showroom in Fort Wayne, IN, we carry a wide selection of laminate flooring to suit all your flooring needs. Our flooring experts are here to help you every step of the way - from selecting your new laminate flooring to installing it in your home. We are laminate experts and can help you browse our varying laminate colors, patterns, styles, and more. Great home interiors start with strong and lovely flooring, so stop by our showroom today to get started on your flooring renovation project!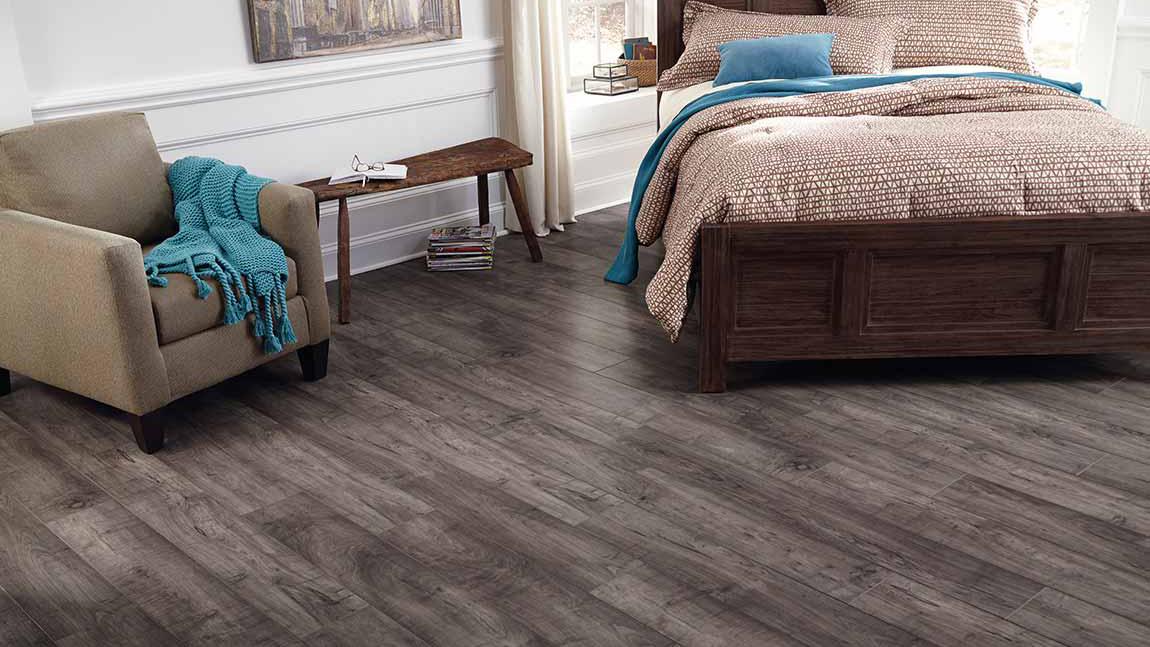 The Many Benefits of Laminate Flooring
Laminate flooring is one of the most durable flooring types. Not only will it look amazing in any room in your home, but it will also last for many years to come. We only carry laminate flooring from the best brands and manufacturers, such as Floorcraft Maysville and Floorcraft Performance Flooring, so that our customers get the top-quality flooring that they will love. Laminate flooring is:
Protected by a tough exterior layer, making it

resistant to scratches, fading, water, stains

, and any other types of accidents.

Easy to clean

and is hygienic.

Affordable

and less expensive than its high-end alternatives, hardwood and tile, which it realistically mimics.

Comes in a variety of

styles and colors

to fit any home decor.

Easily installed

.
How is Laminate Flooring Made?
Laminate offers a solid appearance and contains four distinct layers. It is manufactured with a base that protects against moisture and a core that withstands heavy foot traffic and every day wear and tear. There are two methods used in manufacturing laminate flooring: the direct-pressure method and the high-pressure method. Both methods produce a gorgeous flooring that is available in a wide variety of colors and patterns, with resemblances to both wood and stone. Stunning and resilient laminate flooring is made using on of these two processes:
The

direct-pressure method

fuses all four layers of the laminate at once. This method makes the most affordable and common types of laminate flooring.

The

high-pressure method

fuses laminate's layers one at a time with higher amounts of weighted pressure and heat to produce the most durable forms of laminate flooring, making it ideal for commercial spaces.
Your Guide to The Laminate Flooring Types
There are two types of laminate flooring, laminate wood flooring and laminate tile flooring. Both styles are affordable and realistically mimic their high-end counterparts, traditional hardwood and tile. Learn more about the laminate flooring types:
Laminate Wood Flooring

mimics the look of hardwood flooring, but it is more durable and is easier to maintain. This type of laminate is made to look like your favorite species of wood such as mahogany and oak. Its high-quality photogenic layer and clear coating on top allows you to see the image of wood beneath.

Laminate Tile Flooring

replicates the beautiful appearance of real stone flooring at a lesser cost. Our selection of laminate resembles different types of tile flooring such as porcelain and ceramic.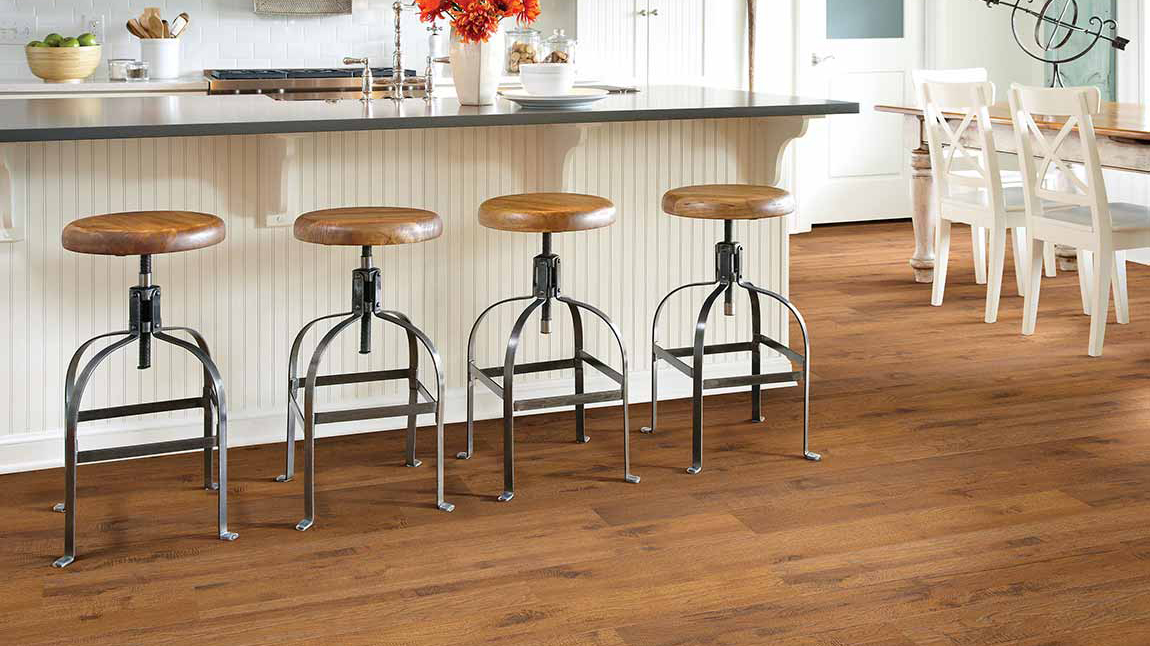 Maintaining Your New Laminate Floors
Laminate floors need very little upkeep and don't need any touch-ups or refinishing. Laminate flooring is a low-maintenance flooring type so there are only a few simple steps that you need to follow to keep them looking fresh and brand new for years to come:
Clean up any spills or accidents as soon as possible.

Sweep or vacuum regularly to remove any dirt and dust.

Use a damp mop for a deeper clean with warm water and a mild detergent. Before purchasing any cleaning products, be sure to check your floor's warranty or ask our flooring experts for a recommendation!
Professional Laminate Flooring Installation Services
Rely on us to install your new laminate flooring! Our expert flooring installers have the precision and skill as well as years of experience, so you can rest assured. Once you choose your new laminate, we will work with you to schedule a time to perform the installation that works with your schedule. Whether you are upgrading the floors in one room of your home or are laying new laminate flooring all throughout, take advantage of our competitive rates and fast installation services.

With our help, you never have to worry about your flooring renovation. Our promise of a quality job is backed by some of the best guarantees in the industry, including our Ultimate Confidence Guarantee. This is our promise to you that should you be unhappy with your new laminate flooring for any reason, just give us a call within 30 days of your installation and we will replace it with a similar product at no additional cost to you.


Contact us to learn more about our laminate flooring selection and professional installation services. We proudly serve customers in Fort Wayne, IN, and the surrounding communities.