Laminate Flooring in Fort Wayne, IN
Select an effortless flooring option to enhance the appeal of your home with the exquisite laminate flooring available at Jack Laurie Home Floor Designs. At our local flooring store, we offer a broad range of laminate flooring choices to meet all your style preferences and performance needs. Our team of flooring specialists is ready to assist you throughout the entire process, from picking out your new laminate flooring to its installation in your home. We possess extensive knowledge about laminate and can guide you through the various colors, designs, patterns, and more. Exceptional home interiors begin with sturdy and charming flooring, so come visit our showroom in Fort Wayne, Indiana today to kickstart your flooring renovation project!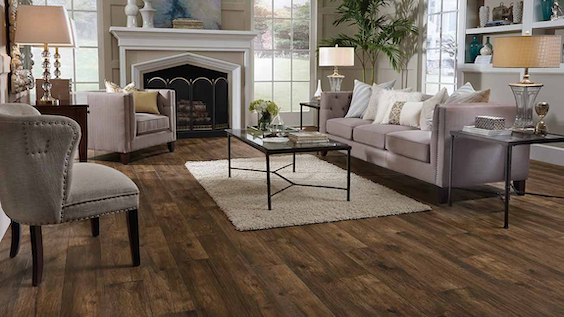 What is Laminate Flooring?
Laminate floors are a modern flooring material for a quick and affordable renovation that's kid proof and pet proof. Laminate comes in cut planks or tiles that are ready to install the day they arrive in your home. It's manufactured for maximum durability by fusing together four distinct layers:
A base layer that protects against moisture.
A sturdy wood by-product core that withstands heavy foot traffic and provides a resilient feeling underfoot.
A photo or image layer that authentically mimics the look of real wood or stone.
A protective seal that repels water, scratches, dents, and daily wear.
How is Laminate Flooring Made?
There are two methods used in manufacturing laminate flooring: the direct-pressure method and the high-pressure method. Both methods produce gorgeous flooring that is available in a wide variety of colors and patterns, with resemblances to both wood and stone. Stunning and resilient laminate flooring is made using one of these two processes:
The direct-pressure method fuses all four layers of the laminate at once. This method makes the most affordable and common types of laminate flooring.
The high-pressure method fuses laminate's layers one at a time with higher amounts of weighted pressure and heat to produce the most durable forms of laminate flooring, making it ideal for commercial spaces.
Your Guide to Our Laminate Flooring Types
There are two types of laminate flooring available at our Fort Wayne flooring store, laminate wood flooring and laminate tile flooring. Both styles are affordable and realistically mimic their high-end counterparts, traditional hardwood and tile. Learn more about the laminate flooring types:
Laminate Wood Flooring mimics the look of hardwood flooring, but it is more durable and is easier to maintain. This type of laminate is made to look like your favorite species of wood such as mahogany and oak. Its high-quality photogenic layer and clear coating on top allow you to see the image of wood beneath.
Laminate Tile Flooring replicates the beautiful appearance of real stone flooring at a lesser cost. Our selection of laminate resembles different types of tile flooring such as porcelain and ceramic while remaining much warmer underfoot.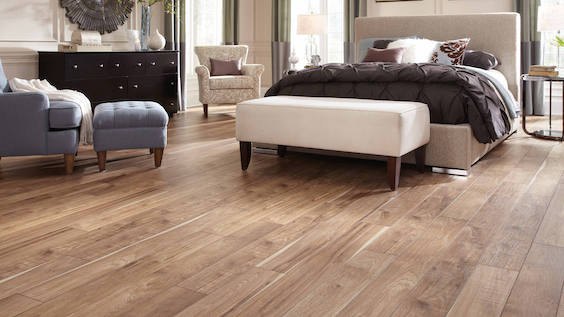 The Many Benefits of Laminate Flooring
Laminate flooring is popular among our Allen County customers for its variety of advantages. Not only will it look stunning in any room in your home, but it will also last for many years to come. We only carry trusted laminate flooring brands and manufacturers, such as Floorcraft, Mannington, and Mohawk so that our customers receive top-quality flooring that looks great and lasts. Enjoy all of the following benefits when you choose laminate floors for your Fort Wayne, Indiana, home:
Lasting Durability
Protected by a tough exterior layer, laminate is resistant to scratches, fading, water, stains, and any other types of accidents. Active households with kids and pets enjoy laminate's worry-free durability for many years.
Affordable Flooring
Laminate offers an affordable alternative to popular flooring materials like hardwood and tile. This way you can get the design you love without breaking the bank. Find laminate that meets your budget at our local flooring store.
Versatility in Design
With advanced printing technology, laminate floors come in a variety of ultra-realistic wood and stone looks. This way, you can achieve any of your interior design goals and easily match your existing home decor.
Quick and Easy Installations
If you desire a quick turnaround time for your flooring renovation, laminate is the perfect product. Designed for a simple installation, each board locks into place like a puzzle and can even go over
Easy Laminate Flooring Care
Laminate floors need very little upkeep and don't need any touch-ups or refinishing. Laminate flooring is a low-maintenance flooring requiring minimal care for long-lasting durability.
Professional Laminate Flooring Installation Services
Rely on us to install your new laminate flooring! Our expert flooring installers have the precision and skill as well as years of experience, so you can rest assured your project will be a lasting success. Once you choose your new laminate, we will work with you to schedule a time to perform the installation that works with your schedule. Whether you are upgrading the floors in one room of your home or are laying new laminate flooring all throughout, take advantage of our competitive rates and fast installation services.
With our help, you never have to worry about your laminate flooring renovation. Our promise of a quality job is backed by some of the best guarantees in the industry, including our Ultimate Confidence Guarantee. This is our promise to you that should you be unhappy with your new laminate flooring for any reason, just give us a call within 30 days of your installation and we will replace it with a similar product at no additional cost to you.
Contact us to learn more about our laminate flooring selection and professional installation services. We proudly serve customers in Fort Wayne, IN, and the surrounding Allen County communities!