Attractive Laminate Flooring in Fort Wayne, IN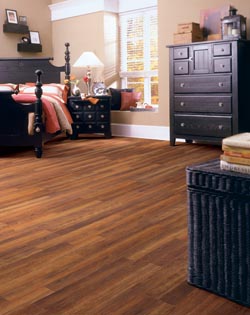 Start an exciting home remodeling project by talking to the flooring experts at Jack Laurie Home Floor Designs. Great home interiors start with attractive flooring, and our wide selection of laminate flooring in Fort Wayne, IN, is the way to set your project on track for success. This flooring material has remarkable design versatility, and it is ideal for virtually any room in the house. Available in a variety of colors and patterns, laminate is a cost-effective choice for property owners who want to give their interiors a look of sophistication and luxury.
The Authentic Look of Laminate Floors
Part of laminate's appeal is how the material flawlessly duplicates the appearance of natural stone or hardwood at a fraction of the price. In fact, the material covers such a wide range of appearances that it has something to offer everyone, regardless of design preferences. Laminate achieves this versatility due to the presence of a high-resolution digital photo beneath the material's upper wear layer. In fact, some styles even have a hand-scraped finish to mimic the texture of wood graining.
Experience the Benefits of Laminate Floor
Laminate flooring comes in tiles or planks, and its composition includes a fiberboard core that makes it comfortable underfoot. The material is highly resistant to stains and moisture, and it easily withstands years of heavy foot traffic. This means that busy homeowners will enjoy the like-new appearance of laminate for years to come with only minimal maintenance. Laminate is a favorite flooring material in active households with kids and pets. For no-fuss flooring that boosts your home's ambiance, laminate is the way to go.
Visit Our Flooring Store Today
At our showroom, we offer all the resources you need to give your home an eye-catching update. Laminate flooring is a good choice for whatever room you are remodeling, from the kitchen to the bathroom. When you shop our collection or laminate, our friendly and knowledgeable associates will help you find the product that's right for you. Once you have selected your favorite style, we offer our convenient installation service. Our flooring professionals ensure that your new purchase is properly installed for optimal appearance and product longevity. As our customer, your complete satisfaction is always our top priority. Stop by today to discover for yourself why we are the area's most recommended flooring showroom.
Contact us with any questions about our products or pricing. We proudly serve property owners at our showroom in Fort Wayne, Indiana.