Hardwood in Fort Wayne, IN
Hardwood Flooring in Fort Wayne, IN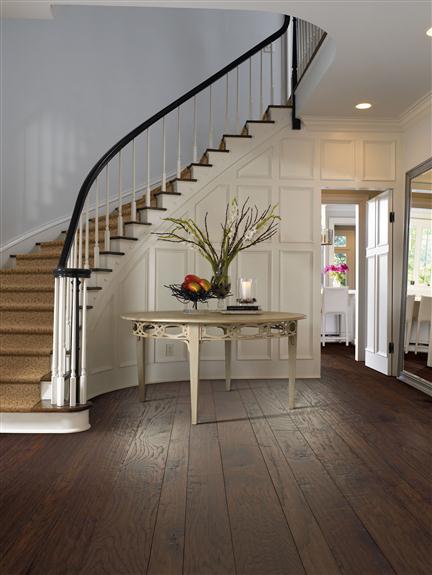 Have you always desired hardwood flooring for your home? Instead of dreaming about upgrading, create the style you want today with new floors from our premier company. We offer stylish and affordable flooring to add elegance and value to your property. Choose from numerous name-brand styles in a range of species, stains, and more. You'll be able to take pride in your home with the addition of timeless and elegant hardwood.
Because of its extraordinary durability, hardwood represents smart investment for your home. A new hardwood floor adds value to your property for years to come. Prospective homebuyers are always on the lookout for homes with attractive, quality floors. For those interested in selling their homes at some point, hardwood is an excellent choice.
Hardwood floors offer many distinct advantages. First, this flooring enhances the aesthetic value of any space in your home. Other floor materials simply can't match the elegance, warmth, and beauty of wood. Secondly, wood is available in a wide variety of stains, species, colors, and styles. No matter what look you're trying to achieve in your home, you're sure to find a wood floor that matches your tastes.
Another benefit of hardwood floors is that if they do become scratched and scuffed, your floors can be smoothed, sanded, and refinished to look new again. Hardwood doesn't hide particles and bacteria, which means it's a healthier choice. For those suffering from allergies, this benefit is particularly notable. Finally, wood floors are known for their durability and strength. Quality engineered or solid hardwood flooring from our store is sure to last for generations to come.


Engineered Versus Solid Hardwood Flooring
The two most popular types of hardwood floors are engineered and solid. Engineered and solid hardwoods both offer their own advantages. Our knowledgeable flooring professionals will help you decide which flooring type is right for you. Homeowners often make their decisions based on the appearance the available flooring options. In fact, the appearance of a hardwood floor is just one factor to consider.
Engineered hardwood is made to look like solid hardwood and can be installed at any grade. The top layer of engineered hardwood can withstand significant wear and tear. These floors offer superior stability, which means they're less prone to rippling or buckling over time. They are also resistant to moisture and are good candidates for flooring in kitchens, bathrooms, and basements. Homeowners with children and pets don't need to worry about scratches and dents on these floors. Engineered floors are also easy to install, because they offer a greater range of installation options.
Solid hardwood is made from your choice of wood species. This flooring type may then be stained according to your aesthetic desires. Because of its density and resilience, this material may be sanded and refinished several times without being replaced. Solid wood adds value to your home because it is a long-lasting material. Because solid wood is so strong, it increases the structural integrity of your floor, in a way that engineered floors cannot match. Whatever flooring option you end up choosing, it will live up to your expectations in terms of its quality, durability, and appearance.


Beautiful Hardwood Floors from the Top Brands
Our established relationships with the top flooring companies allow us to extend affordable prices to every customer. We pride ourselves on carrying countless wood species styles and finishes in our showroom, many of which are from prominent industry brands. If you prefer a specific name brand, our flooring specialists will help you find the perfect style at a great price.
Wood is unsurpassed in terms of elegance, beauty, and variety. This classic flooring option has been the go-to choice for homeowners for many years and will continue to be going forward. Increase your home's value, beautify your living space, and reduce your floor maintenance workload with the addition of a new hardwood floor. If you're interested in adding hardwood floors to your home, don't hesitate to get in touch. We'll walk you through our many flooring options.


Professional Hardwood Flooring Installation
There are many reasons you to consider hardwood flooring installation from our experienced and skilled installers. The main one is to ensure your investment is protected for the long term. Our installers have all of the industry-standard tools and equipment, along with their knowledge and experience, to ensure your installation meets your expectations. In addition, we offer an installation guarantee that promises to replace any kind of installation-related issue for the lifetime of your floors.
If you are looking to upgrade the appeal of your home or office, schedule a free in-home consultation with one of our design specialists. We can help you visualize hardwood in your space with your current décor or match it to your inspiration pieces for future renovations. A free consultation is the perfect way to get a clear idea of your flooring needs. Once you see the way a new hardwood floor enhances your space, you will feel more confident about your hardwood flooring purchase.

Contact us today for a free estimate on the new hardwood flooring you have been looking for. We proudly serve customers in Fort Wayne, New Haven, Aboite, Yoder, and Leo-Cedarville, Indiana, and surrounding communities.