Timeless & Beautiful Hardwood For Your Home
Hardwood Flooring in Fort Wayne, IN
Add strength and character to any room by choosing hardwood for your flooring. At Jack Laurie Home Floor Designs, we're proud to offer one of the most diverse collections of hardwood flooring. We carry a broad range of hardwood floors in varying types and styles. Our reliable team of flooring professionals is ready to help you find exactly what you need.

When you visit our showroom in Fort Wayne, IN, you'll be able to check out our numerous hardwood flooring styles. Whether you prefer traditional styles, rustic designs, or modern looks, we have a hardwood surface for you. All of our wood products stand up well to heavy foot traffic and, with the right care, the hardwood floors you install today can look like new for years to come. You'll love the way your space looks after your hardwood flooring installations and so will your guests.

Our in-store associates are available for home consultations and measurements for your purchase. We can assist you to make the best decision by assessing the space where your new hardwood flooring will be placed. Your home's décor and your style preferences are used to help guide us to find the best flooring option for your home. We proudly carry some of the following top-quality brands in our showroom:
Aquadura H2O

Downs

Floorcraft

Baroque Flooring

Spotlight Values

Kahrs

Mohawk

Endless Hardwood Flooring Styles
We have hardwood flooring options in all different types of styles from rustic to modern so you are sure to find the perfect hardwood flooring from our collection. Our flooring associates are knowledgeable and are happy to assist you during your selection process, ensuring that you find a product that fits your style. We take the time to listen to your preferences, and we provide you with advice as to what floor is best for your home.

When you are shopping for new hardwood flooring, rely on our team to help you make the most out of your project budget. We offer high-quality flooring options from the best manufacturers in the industry. Your investment is protected by customer-friendly warranties and a labor guarantee on each of our products, including our collection of the following types of hardwood flooring:
Cherry

Hickory

Ash

Maple

Pine

Walnut

White Oak

Red Oak

Birch
Timeless Solid Hardwood
Solid hardwood flooring flaunts a traditional and classic style. It offers any home a recognizable look that suits any interior design aesthetic. Not only are solid hardwood floors beautiful, but they also withstand the test of time. Whether you prefer rustic, modern, or traditional styles, solid hardwood floors always add richness to any room. Solid hardwood is sold as planks that are one genuine piece of hardwood and it offers the most natural appearance. Thicker in construction, solid hardwood is a sturdy flooring choice that can be given different finishes such as gloss, matte, or satin. With proper care, solid hardwood can last a lifetime and can be refinished. Solid hardwood offers flexibility that most types of flooring cannot.
Durable Engineered Hardwood
Engineered hardwood is the ideal flooring option for homeowners that are looking for luxury style at a budget-friendly price. This type of hardwood offers versatility and adaptability, making them a great flooring choice for any room in your home. Engineered hardwood consists of several built-in, pressed wood layers added for strength. This unique composition resists moisture and humidity, making it a great foundation for below-grade basements, kitchens, and bathrooms where moisture and humidity are common. The surface layer reveals the natural beauty of your chosen wood species. Engineered hardwood can even hold up against the heaviest of foot traffic.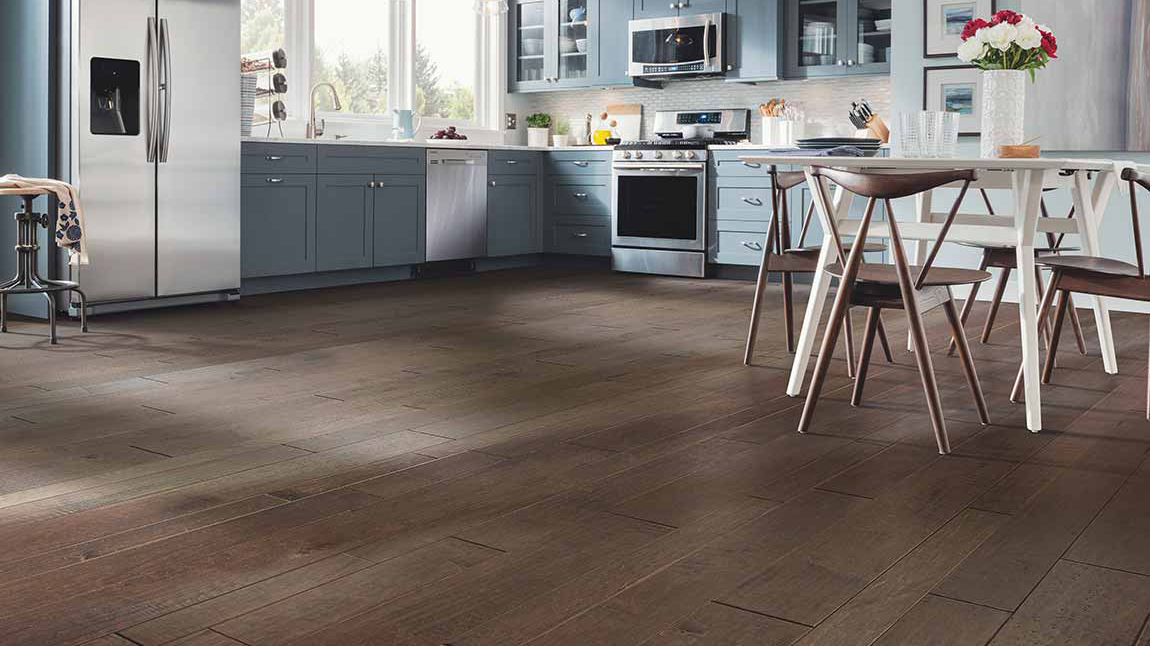 Maintaining Your Hardwood Floors
There are so many advantages to hardwood flooring, ranging from its natural look and feel to its long-term value. The biggest advantage, though, is the ease of maintenance and simplicity of cleaning. Your hardwood floors will look brand new for years to come with simple mopping and sweeping. To maintain their beautiful look, hardwood floors should be wiped with a damp mop and a warranty-certified cleaner. If you want your hardwood floors to be extra shiny, you can purchase a wood polish that will keep your hardwood looking brand new and can be used every 2-4 months. We are always happy to make a product recommendation that is within the warranty of your new hardwood flooring.
Professional Hardwood Flooring Installation Services
Once you've chosen your perfect hardwood flooring, let us finish the job for you. Our team of in-house technicians performs efficient and accurate installations in any room. Peace of mind means everything when it comes to a home renovation project, and our professional installation gives your just that. Trust our team to deliver the leading standard of service and make your new floors look perfect. We prove our commitment to your satisfaction by backing completed installs with our Ultimate Confidence Guarantee. It is our promise to you that your satisfaction is important to us. If you are not happy with your new hardwood floors, then we'll replace the floors for you at no extra cost.


Contact us to learn more about our hardwood flooring collection. We proudly serve customers in Fort Wayne, New Haven, Aboite, Yoder, and Leo-Cedarville, Indiana, as well as the surrounding communities.