Nominate a Frontline Worker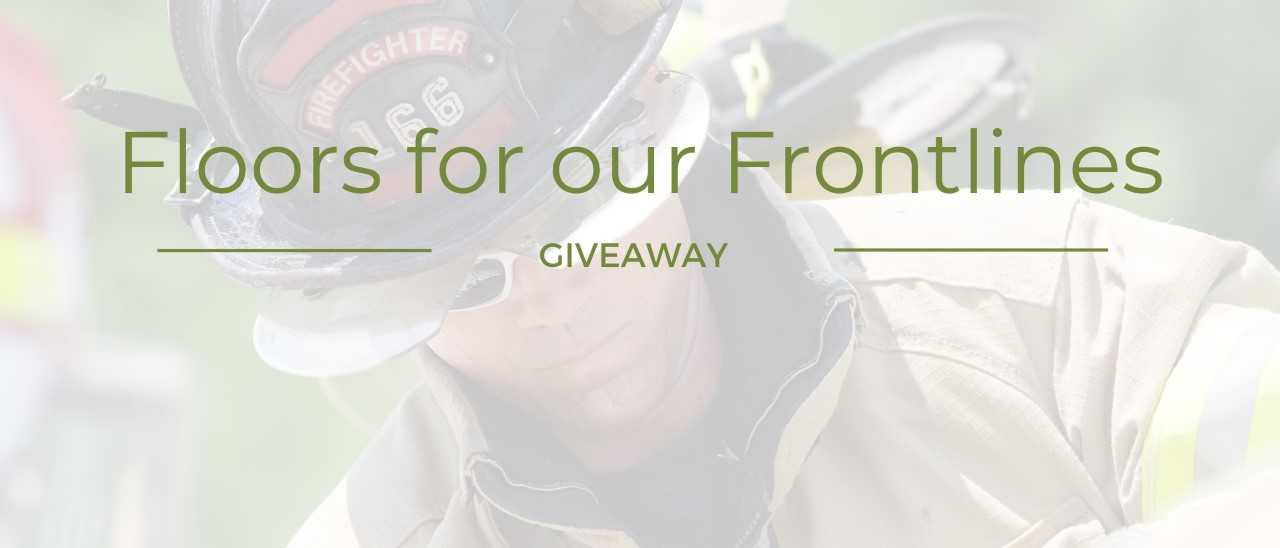 During this pandemic, we have been watching from the sidelines as the brave, important work is being done on the frontlines. The first responders, doctors, nurses, EMTs, firefighters, and police in our community have been working tirelessly to keep us all safe, and they've earned a well-deserved break. Or at the very least, a breakroom floor makeover!

That's why Jack Laurie Home Floor Designs in Fort Wayne is launching "Floors for Our Frontlines", our small way of saying thank you to a special group of winners who've worked so hard during these unprecedented times.

Winners will get a floor makeover to spruce up a space in their workplace. Whether this is a breakroom or a social area in their place of work (non-residential), we want their entire department to benefit!*


Here's how it works:


If you know of a team or group who is currently serving the public and deserves the makeover, nominate them in the space below. Let us know in 150 words or less about them and why they deserve this workplace makeover. Describe their work during the pandemic, and how they have helped the community.

We'll take nominations through the website, and finalists will be chosen soon. We'll also share on our social media so be sure follow us today.

At Jack Laurie Home Floor Designs, we are dedicated to making Fort Wayne and Indianapolis better places to work and live.

*Winners will receive up to $1,500 retail value in flooring for their workspace makeover; Installation must be within a 60 mile radius of our Fort Wayne showroom.
Floors for our Frontlines Giveaway
Rules & Regulations
NO PURCHASE NECESSARY.
Making a purchase will not improve one's chances of winning. Sweepstakes is limited to members of the general public who are customers of Jack Laurie Home Floor Designs or potential customers.
TO ENTER
the sweepstakes, you must complete the online entry form found at www.jacklauriegroupftwayne.com/custom/1719df/contest2020. By providing your email address as entry into this sweepstakes, you are agreeing to receive emails from your local Flooring America store/Jack Laurie Home Floor Designs with information about flooring and promotions they may have. At any time you can unsubscribe from any of these emails by clicking on the unsubscribe link at the bottom of each email.
SWEEPSTAKES PRIZES & ODDS OF WINNING:
One Grand Prize winner will receive new flooring for one area of their workspace (non-residential) and will expire after one year from the date prize was won. Examples of "workspace" would be a break area or social area of work place. New flooring will be determined by the winner and Jack Laurie Home Floor Designs and will be equal in type to what is already in existence. Area of replacement will not exceed 16 x 16. Maximum amount of $1,500 in retail value in flooring allowed for the winner. Flooring only will be replaced. All other expenses will be the responsibility of the winner. Any unforeseen expenses/repairs that are in addition to the new flooring will be the responsibility of the winner. Winner's workspace must be within a 60 mile radius of the Fort Wayne, IN Jack Laurie Home Floor Designs showroom. Odds of winning are dependent upon the number of eligible entries received. Sweepstakes entry forms are available online at www.jacklauriegroupftwayne.com/custom/1719df/contest2020. Grand Prize winner may not substitute cash in lieu of taking the prize. The sweepstakes runs from October 5, 2020 – December 5, 2020 and all entries must be received during this time period. Limit one (1) entry per person/authorized e-mail account holder. The use of automated devices to enter this Sweepstakes is prohibited. Sponsor is not responsible for entries that are lost, damaged, misdirected, altered, illegible or late in arriving. Sponsor is not responsible for computer system, phone line, hardware, software, or program malfunctions, or other errors, failures, or delays in computer transmissions or network connections, whether human or technical in nature. Sponsor reserves the right, at its sole discretion, to cancel or suspend this sweepstakes should causes beyond the control of the Sponsor corrupt the administration, security, or proper play of the contest. In the event of a dispute regarding the identity of the person submitting an electronic entry, the entry will be deemed to be submitted by the person in whose name the e-mail account is registered. Any attempt by an entrant to deliberately damage any Web site or undermine the legitimate operations of the sweepstakes is a violation of the criminal and civil laws, and should such an attempt be made, the Sponsor reserves the right to seek damages from any such entrant to the fullest extent permitted by law. Grand Prize winner will be chosen on or about December 7th at the offices of Jack Laurie Home Floor Designs, 430 W Coliseum Blvd, Fort Wayne, IN. Winner will be notified by December 15th via email notification. Any prize winner who does not respond within 24 hours shall forfeit the prize and a drawing for an alternate winner will take place. Prize winners will be required to execute an Affidavit of Eligibility and a Liability & Publicity Release, which must be completed and returned within 7 days of notification (if not returned, the prize will be forfeited and awarded to an alternate). Prizes not transferable, assignable (except as indicated herein) or redeemable for cash. All applicable federal, state, and local taxes (excluding sales tax) are the responsibility of the winners. Winners who are U.S. residents must provide tax id information and other information sufficient for Sponsor to issue a 1099 form, if applicable. Acceptance of prize constitutes permission to use winner's name, likeness, and photo for publicity purposes without additional compensation. Employees or family members of employees of Jack Laurie Group and CCA Global Partners, Inc and its affiliates are not eligible to enter. Must be 18 years of age to enter. Void where prohibited. All Federal, State, provincial and local laws apply. By entering the sweepstakes, participant agrees to be bound by these official rules. By accepting prize, winner(s) agree that Sponsor, its' employees, directors and officers will be released and held harmless from any losses, costs or injuries of any kind or related in any way to the use, misuse of the prize awarded. Sponsor reserves the right to substitute alternate prize of equal or greater value in the event of prize unavailability. Sponsor shall have no liability and shall be released and held harmless by winner(s) for any damage, loss, or liability to person or property, due in whole or part, directly or indirectly, by reason of acceptance, possession, use, misuse of prize or participation in the sweepstakes. Any and all disputes, claims and causes of action arising out of or connected with this sweepstakes or any prize awarded shall be resolved individually, without resort to any form of class action, and exclusively by arbitration. Any and all claims, judgments, and awards shall be limited to actual out-of-pocket costs incurred, including costs associated with entering the sweepstakes, but in no event attorney's fees. WINNER'S LIST REQUEST: A complete list of winners will be available at the end of the sweepstakes. For a copy of winners' list, send a self-addressed, stamped envelope to "Floors for our Frontlines Giveaway" Winners c/o Jack Laurie Home Floor Designs, Marketing Dept. 430 W Coliseum Blvd, Fort Wayne, IN 46805. Sponsor: Jack Laurie Group