Plush and Cozy Carpet in Fort Wayne
We know finding a new carpet can be tough, especially with so many choices available to you. Our goal at Jack Laurie Home Floor Designs is to make finding your new carpet flooring easy and enjoyable. At our showroom in Fort Wayne, IN, our carpet experts are here to help you find the perfect carpet for your home. Our carpet flooring selection is high-quality, cozy, high-performing, and looks great in any space. Whether you're looking for a beautiful shag carpet or a boldly patterned carpet, we have it all! By providing many styles of carpets and hands-on assistance, we make it easy for you to find the perfect carpet for your home.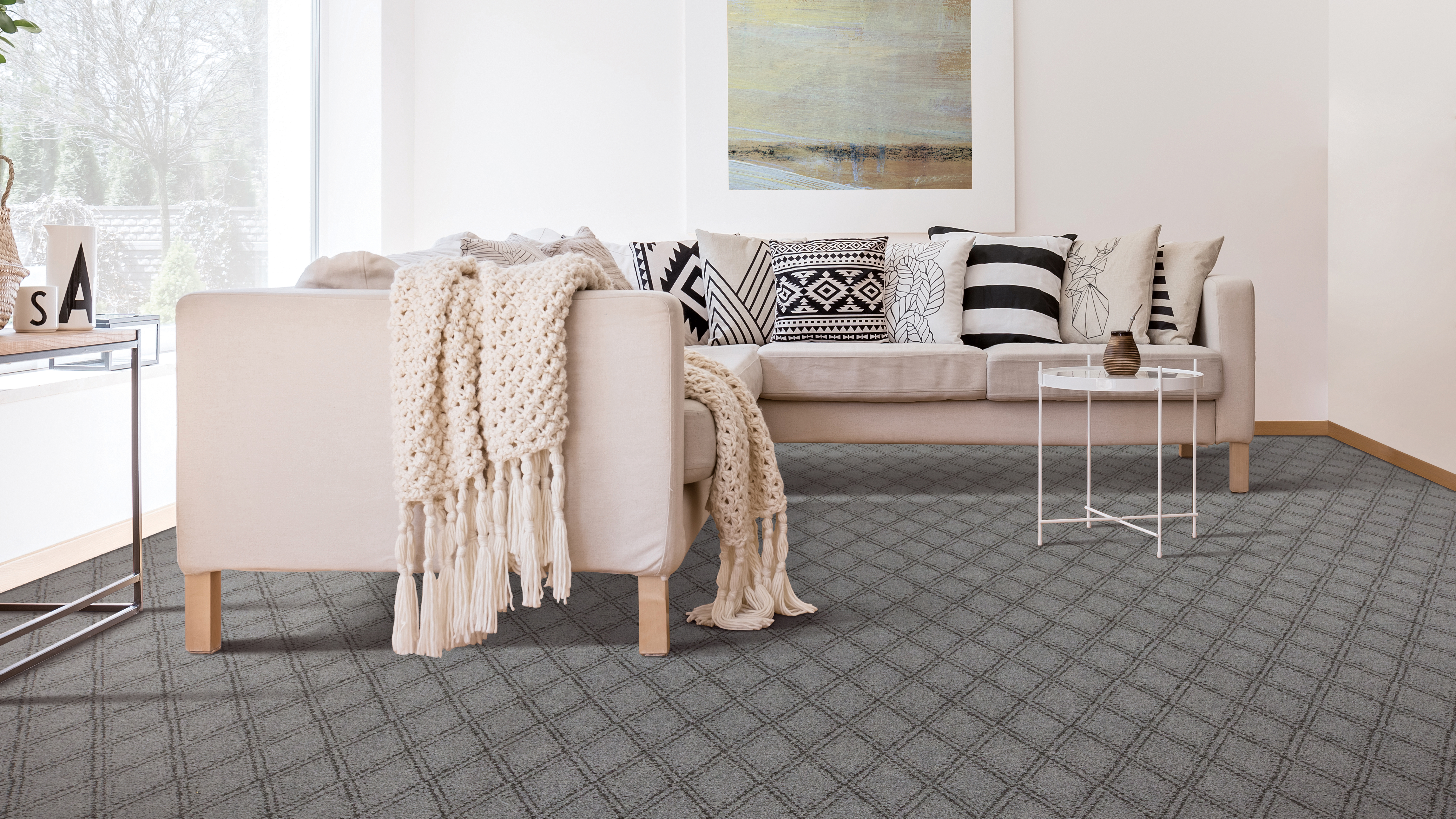 Carpet Types
We carry many different types of carpet that will look great in any space of your home. Whether you prefer a soft, plush carpet or a tightly woven carpet, our team can help you make the perfect selection. Learn more about the types of carpet that we carry:
Berber

is a unique carpet style with a soft and cushioned feeling underfoot. Berber carpets can be found in many different pile heights and can be constructed as multi-level or level-loop carpets. The natural strength and ability to hide dirt and debris in high-traffic areas make Berber carpets one of the market's most versatile and popular carpeting.

Frieze

carpets offer a plush feeling when you walk on them. It is well known for being silky and smooth to the touch and for its resiliency against stains and dirt. With its knotted appearance, this carpet can bring great texture to your home.

Loop

carpets are made of uncut looped fibers, offering a surface level typically woven or tufted.

Cut-loop

carpets are made of fibers that are straight and have been cut. This design gives cut-loop carpets a snag-free consistency that is desired for pet- and kid-friendly homes. These styles offer a homey, casual look that quickly hides imprints.

Patterned

carpets make fantastic statement pieces for your home and will leave any guest in awe. Patterns on carpets are created using a process similar to printing on paper, such as flatbed or rotary screen printing. This is an excellent option if you want to add a bold and beautiful pattern to your room.

Saxony

carpets are a luxurious option resistant to shading, wear, and traffic marks. Saxony carpets are cut-pile carpets that add an opulent feel to any space.
Waterproof Carpets
Here in the Fort Wayne area, we get a lot of rain and snow throughout the year, making waterproof flooring a must! We carry a lot of waterproof carpet flooring that is perfect for active households with kids or pets. Waterproof carpeting looks like any other carpet, except its protective backing prevents moisture from reaching the subfloor. When you have a waterproof carpet, stains will stay on the carpet's surface, making them easier to clean and less likely to leave a mark. Waterproof carpet fibers are also resistant to visible wear and tear, offering you peace of mind to keep liquids from seeping into the fiber. Rain or shine, our waterproof carpets are a must for any home in Fort Wayne!
Why Should I Choose Carpet?
We believe that carpet has so many benefits for any household! We only carry carpets from the best brands and manufacturers in the industry so you don't have to worry about the quality of your carpet. These brands include Tigressa, Resista, Spotlight Values, Design Distinctions, Karastan, and more! Besides being beautiful and cozy, here are some of the other amazing reasons why our customers love our top-quality carpets:
Being a comfortable surface to walk on.

Provides a safe surface for children and pets to play on.

Is easy to keep

clean and fresh

.

Reduces noise levels in your home.

Adds warmth and insulation to any room.
We cannot say enough about how easy it is to keep carpets clean. All of our carpet selections were made with long-term wear and tear in mind so they can withstand even the toughest of staining and damages. Here is the best and easiest way to keep your carpet looking brand-new for years to come:
Regular vacuuming (at least twice per week).

Schedule an annual professional-grade cleaning.

Treat any spills or stains as soon as possible.
Professional Carpet Installation
Our team of professional installers is the best in the Fort Wayne area so you can rest assured knowing that your new carpet is being installed by experts and highly trained professionals. Your carpet purchase is guaranteed to look amazing with our in-home installation services, and our team of expert installers will get the job done right the first time and on your schedule. While we do all the work, all you need to do is sit back and relax. Our products are backed by some of the best warranties in the industry, including our Ultimate Confidence Guarantee. If you find yourself unhappy with your new carpet flooring installation, give us a call within 30 days of your installation. We'll replace your carpet with a similar product at no additional cost to you.


Contact us to learn more about our extensive carpet selection and installation services. We proudly serve customers in Fort Wayne, New Haven, Aboite, Yoder, and Leo-Cedarville, IN.