Laminate Flooring in Fort Wayne, IN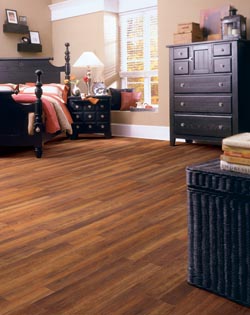 Fill your home with vivid colors and stylish patterns when you choose from our expansive selection of laminate flooring. When you visit our showroom for a design consultation, you get the help you need to find the right type of laminate tile for your kitchen and bathrooms. With our competitive pricing and comprehensive selection of laminates, you are sure to find the flooring pattern that takes your home to the next level of style and sophistication.
An active family can take its toll on home flooring, and when the time comes to replace your old and fading floors, we have a solution for you. Modernize the look and feel of your living space by having our laminate tile flooring installed in your home. If your business establishment needs an attractive boost, a great way to revitalize its looks is with affordable laminates from our interior design center.
Enhance your home's décor by choosing a laminate style for your design plan. Bring along a copy of your design plan when you stop by our showroom, and let us find the right match that is sure to accentuate your existing home décor. Work with our friendly and knowledgeable flooring specialists when you need the best fit possible in your living space. In addition, our laminate flooring installation team is ready to professionally lay down your new floors to ensure it looks great and lasts long. We offer prompt and efficient service based on the most convenient schedule for your household.


The Affordable Appeal of Laminate Tile
Expand the reach of your design plan by getting the most value possible for each and every dollar you spend. With a wide array of colors and textures to choose from, there is no doubt that you will find the floors that best suit your needs in looks, performance, and price. Our laminate tile is easy to cut into a variety of shapes and patterns, and this helps our qualified installation professional create a look that is as practical as it is attractive.
In addition to the added design versatility this flooring offers, our laminate tiles are resistant to scratches and stains as well. If you have a busy family with an active household, this variety of flooring is a smart buy on your part.


Laminate Tile Flooring Resembles High-End Options
Take advantage of the latest advancements in flooring manufacturing and design, and get laminate tile flooring that greatly resembles natural stone and hardwood. As much as these natural flooring options look great in a variety of settings, they are not always suitable for environments that experience variations in moisture and temperature.
With our selection of laminate tiles, you can enjoy the look and feel of hardwood and stone wherever you want it. Your new floors will look amazing, and they will clean up in a breeze. Instead of exposing your kids and pets to harsh cleaners and chemicals, clean up these floors quickly with just a mop and some warm water. You can spend more time enjoying your new home interior and less time being concerned about the cleanliness of your floors.


Laminate Flooring Installation from Experienced Contractors
Get the best fit possible for your new flooring purchase without endless delays and wasted materials by taking advantage of our laminate flooring installation process. Our focus is on your complete satisfaction, and that includes offering you competitively priced installation services. When you consider the repair costs that may be on the horizon when you settle for substandard installation, the choice is clear. Protect the investment you are making in flooring for your home or business by getting it installed by a team with the right tools and years of experience.

Contact us today for a free estimate on the new laminate flooring you have been looking for. We proudly serve customers in Fort Wayne, New Haven, Aboite, Yoder, and Leo-Cedarville, Indiana, and surrounding communities.